Amazon.com said today it is making its larger electronic reader, Kindle DX available in more than 100 countries.
Kindle DX features a 9.7-inch electronic paper display, about 2.5 times the surface area of the original Kindle. Kindle DX with Global Wireless is available for pre-order starting today for $489 and ships January 19.
"Kindle DX is great for personal and professional documents, cookbooks and textbooks – anything that is highly formatted. Documents look so good on the big Kindle DX display, that you'll find yourself changing ink toner cartridges less often and printing fewer documents," said Ian Freed, Vice President, Amazon Kindle.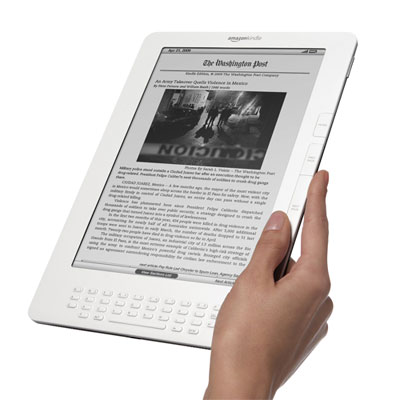 Kindle DX wirelessly downloads books, magazines, newspapers and personal documents to a high-resolution electronic ink display that looks and reads like real paper. Kindle DX includes a built-in PDF reader, auto-rotate option and storage for up to 3,500 books.
The Kindle Store offers international customers over 300,000 English-language books, which are typically priced less than physical editions.
The store also offers more than 100 newspapers and magazines including The New York Times, Newsweek, and Financial Times, available for single purchase or subscription.

Related Articles:
> Barnes & Noble Says No Nook For Holidays
> Amazon Kindle Breaks Monthly Sales Record

> Walmart Wins Thanksgiving, Amazon Wins Black Friday