Amazon.com has launched "Kindle for BlackBerry," a new free application that can be downloaded from the retailer's website.
Kindle for BlackBerry offers access to over 420,000 books and is available on variety of BlackBerry devices. Kindle for BlackBerry allows users to save and synch bookmarks on their Kindle devices, iPhone, iPod touch, PC and BlackBerry. Amazon said it has plans to do the same for Mac and iPad soon.
"Since the launch of our popular Kindle for iPhone app last year, customers have been asking us to bring a similar experience to the BlackBerry," said Ian Freed, Vice President, Amazon Kindle.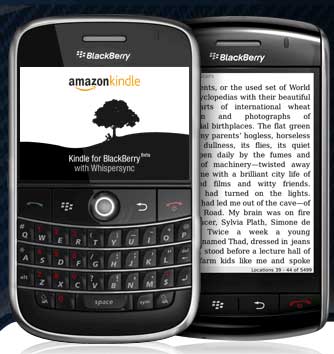 "Kindle for BlackBerry is a great way for customers to continue reading their current book wherever they are – in between meetings, at the grocery store or waiting in the doctor's office. We think customers are going to love how easy and fun it is to read their Kindle books on their BlackBerry."
Customers using BlackBerry devices on AT&T, Sprint, T-Mobile, Verizon and other U.S. carriers can get wireless access to Kindle books, most for $9.99.
Key features of Kindle for BlackBerry app include:
*Automatically synchronize the last page read between their Kindle-compatible devices
*Create bookmarks and view annotations they created on their Kindle, Kindle DX, or Kindle for iPhone and iPod touch

*Adjust the text size of books

*Read books in full color