Amazon.com said today it will launch a Kindle app for Windows Phone 7 sometime later this year.
The Kindle app for Windows Phone 7 includes new features, such as personalized book recommendations on the app home screen and the ability to send book suggestions to a friend from any book in your library without leaving the app.
"When you buy a Kindle book, we make it easy for you to get your books on all of the devices you want to read on – your iPhone, iPad, Android-based device, PC, Mac, BlackBerry, and of course your Kindle, Kindle 3G and Kindle DX," said Dorothy Nicholls, Director, Amazon Kindle.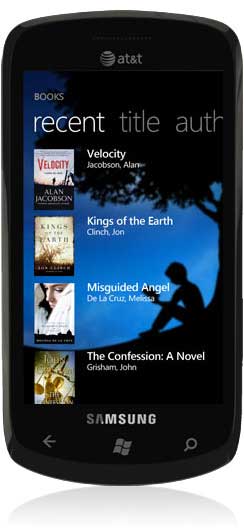 "Kindle for Windows Phone 7 extends our vision of 'Buy Once, Read Everywhere.' The app is optimized for the unique user interface of Windows Phone 7, and will include our Whispersync technology, so you always have your library with you and never lose your place in a book as you switch between devices."
Other features of Kindle for Windows Phone 7 include:
*Integrated shopping experience that allows customers to shop without leaving the app.
*Customized reading, choosing from five different font sizes and three background colors.
*The ability to read in portrait or landscape mode, and to turn pages by tapping on either side of the screen or flicking.