Amazon announced that it is inviting software developers to build and upload "active content" that will be available in the Kindle Store. In other words, look for something like an app store for the Kindle in the future.
The company is releasing a new Kindle Development Kit, which gives developers access to APIs, tools, and documentation to build such active content. The kit starts limited beta mode next month, but developers can currently sign up to be notified when that begins.
"We've heard from lots of developers over the past two years who are excited to build on top of Kindle," said Ian Freed, Vice President, Amazon Kindle. "The Kindle Development Kit opens many possibilities–we look forward to being surprised by what developers invent."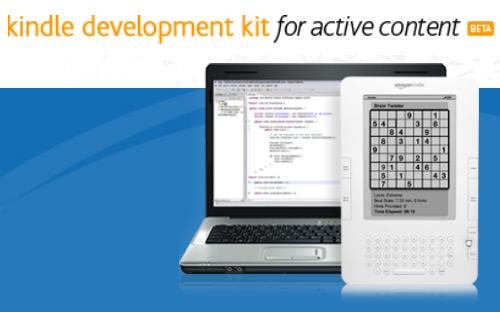 Participants in the beta will be able to download the kit, access developer support and text content on the Kindle, as well as submit finished content, once the beta goes live next month.
"Those wait-listed will be invited to participate as space becomes available," says Amazon. "The Kindle Development Kit includes sample code, documentation, and the Kindle Simulator, which helps developers build and test their content by simulating the 6-inch Kindle and 9.7-inch Kindle DX on Mac, PC, and Linux desktops."
On a related note, Amazon is apparently giving a money-back guarantee on Kindle devices. People can get their money back and keep the Kindle if they "don't love it." It's unclear how this "love" will be determined by the company, but Amazon has reportedly confirmed the legitimacy of the deal.
Related Articles:
> Amazon Kindle Publishers and Authors to Get More Royalties
> Amazon Kindle Breaks Monthly Sales Record