Amazon.com said today that authors who use its Author Central service can now view Nielsen BookScan's weekly geographic sales data for their print books for free.
Author Central is a free service that helps authors promote their books and reach more readers. Also announced today, Author Central has added a feature that shows authors past history on the Amazon bestsellers rank for their books.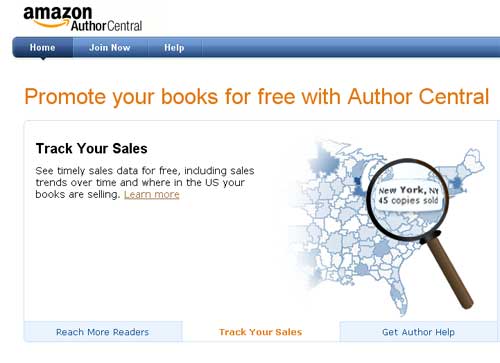 "Authors are an important community for us," said Russ Grandinetti, Vice President, Amazon. "We're really happy to make it easy and free for them to see geographical BookScan data updated weekly, as well as historical Amazon bestsellers rank, for their books."
"We hope this creates an improved feedback loop for authors and enables them to develop more effective methods for reaching the widest possible audience."
The new "Sales by Geography" feature displays a map of the continental United States, highlighting the areas where copies of authors' books have been sold. The new "Sales by Week" feature displays a bar chart of an author's sales recorded over the trailing four weeks. Authors can also see how many copies of each title were sold by print-edition type, e.g. hardcover or paperback. Digital book sales are not included in BookScan data.