Amazon.com has introduced a free app for iPad called Amazon Windowshop, which the company describes as a complete "rewrite" of its website for iPad.
Amazon says Windowshop takes advantage of the iPad's responsive, multi-touch user interface and offers a fluid user interaction.
"Amazon Windowshop is a top-to-bottom rewrite of Amazon.com – designed and built without compromise just for iPad," said Jeff Bezos, founder and CEO of Amazon.com.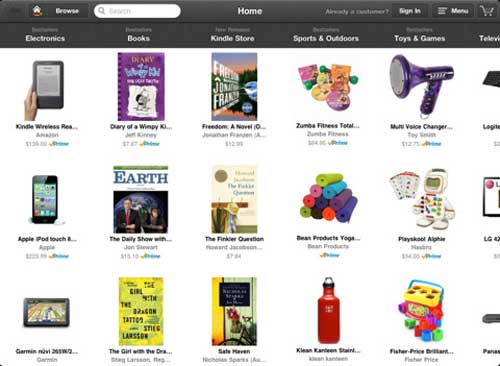 "Try it. I think you'll find it's an amazing new way to shop Amazon's millions of items. Same selection, same low prices, same fast delivery, same benefits of your Amazon Prime membership – just a completely new, fluid interface designed specifically for lean-back, touch screen tablets."
Key features of Amazon Windowshop include:
*Discover more products within a category by touching the category (column) heading and be presented with all of the subcategories with hundreds of additional, related products.
*Explore the Amazon catalog by selecting the Browse button and picking the list type desired (Best Sellers, New Releases, Recommendations, etc…) then browse the categories and subcategories to find the products you are looking for.
*Learn more about the products by selecting the product from the grid of product images and be presented with the detailed product screen including the pictures and videos related to that product (which includes 30 second samples for the music items). Included are tabs for product details and description, user reviews, and related products.
*Share items you have discovered via e-mail, Facebook, or Twitter.