Amazon.com has introduced a new free price comparison app for iPhone that lets people compare in-store prices with prices from Amazon and other online retailers.
The app called "Price Check," allows iPhone users to scan a barcode, take a picture, or say or type a product name to receive prices for an item from Amazon and other online retailers.
"This app makes it incredibly easy to quickly compare prices on millions of items before making a purchase," said Sam Hall, director of Amazon Mobile.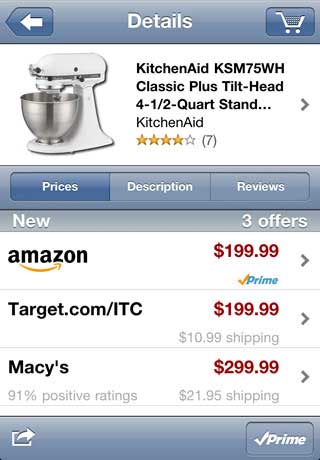 "We've worked hard to have low prices at Amazon, and we like it when customers comparison shop so they know they're getting a good deal. We hope this app will empower customers to shop with confidence this holiday and any other day."
Price Check users have four ways to find prices:
*Scan a barcode: Amazon's barcode scanner will match an item and provide pricing from Amazon.com and other online merchants.
*Snap a picture: Snap a photo and match the picture to books, DVDs, CDs and video games.
*Say the product name: Speak the name of a product to return product matches and pricing.
*Type your search: Type the product name to retrieve matches.
You can also get more information on the app here.