Amazon continues to make its Kindle app available on more and more devices, the latest is Microsoft's Windows Phone 7.
Yesterday, Amazon announced the launch of its Kindle app for Android and Windows based tablets. Amazon says Kindle for Windows Phone 7 is the first major eBook app available for the device, and includes new features built into the app for the first time, including personalized recommendations integrated into the Kindle app home screen and the ability to send book recommendations to a friend without leaving the app.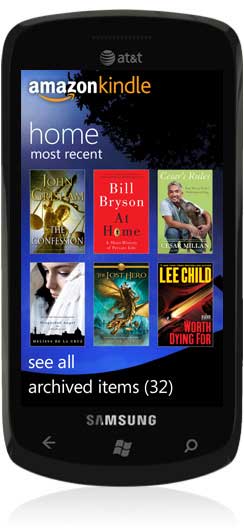 "With Kindle books you never have to worry about what to do if you change devices or platforms. Our free 'Buy Once, Read Everywhere' apps make it easy for you to read your books on any device you choose – your Kindle, Kindle 3G, Kindle DX, iPad, iPhone, PC, Mac, BlackBerry, Android-based device, and now your Windows Phone 7-based device," said Dorothy Nicholls, Director, Amazon Kindle.
"We think customers are going to love our new Kindle app on the unique interface of Windows Phone 7 and the convenience of our Whispersync technology, which saves and synchronizes your bookmarks, notes and highlights between all of your devices."
Other features of Kindle for Windows Phone 7 include:
*Kindle's Worry-Free Archive automatically backs up your Kindle library on Amazon, so your books can be re-downloaded wirelessly anytime.
*Integrated shopping experience allows you to shop without leaving the app.
*Send an email to a friend with a link to the book you're reading or to any book in your library without leaving the app.