The Recovery Accountability and Transparency Board said today it has moved Recovery.gov to a cloud computing infrastructure hosted by Amazon.com's Elastic Compute Cloud (EC2).
The board says the move will allow for more efficient computer operations, improved security and reduced costs.
Recovery.gov is now the first government-wide system to move to the cloud. The board says the move to Amazon's EC2 will save $750,000 during its current budget cycle and significantly more over the long-term.
"Cloud computing strikes me as a perfect tool to help achieve greater transparency and accountability," said Earl E. Devaney, the Board's Chairman.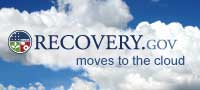 "Moving to the cloud allows us to provide better service at lower costs. hope this development will inspire other government entities to accelerate their own efforts. The American taxpayers would be the winners."
The board says Recovery.gov is more secure and has better protection against network attacks and real time detection of system tampering. Amazon's security platform has been added to the board's own security system, which it will continue to maintain and operate.
More than $1 million in computer hardware and software will be redirected to the board's oversight operations to help identify fraud, waste and abuse in the Recovery program.
"Recovery.gov is demonstrating how government agencies are leveraging the Amazon Web Services cloud computing platform to run their technology infrastructure at a fraction of the cost of owning and managing it themselves," said Adam Selipsky, Vice President, Amazon Web Services.
"Building on AWS enables Recovery.gov to reap the benefits of the cloud – including the ability to add or shed resources as needed, paying only for resources used and freeing up scarce engineering resources from running technology infrastructure – all without sacrificing operational performance, reliability, or security."