As we've written about a lot lately, local search is continuing to evolve, and that evolution is not just coming from the biggest names in search. We recently had a discussion with RateItAll President Lawrence Coburn about user location-sharing as new kind of query that can yield local business results. ChaCha is bringing in Q&A to local search.
Another site, called AlikeList aims to make local search a social experience, where consumers turn to their trusted friends (and friends of friends) for business reviews, so they don't have to rely on the words of strangers. Basically, users can see which businesses their friends "like."
AlikeList has over 14 million businesses listed in its database, and 10's of 1000's of businesses are recommended in over 1,000 hyper-local cities in the US and in 5 major metro markets. We asked the company how a consumer benefits from the site's strategy of not offering any negative reviews. In other words, what is to keep a user from looking for a more balanced source?
Co-founder and CEO Jim Delli Santi tells WebProNews, "AlikeList enables its users to see 'Likes' from their friends, from friends-of-friends and from all AlikeList users. The goal is to replicate real-world, word-of-mouth referrals online. If a friend recommends a business, you already know his/her preferences, and based on those preferences you can make a decision to follow/not follow the recommendation."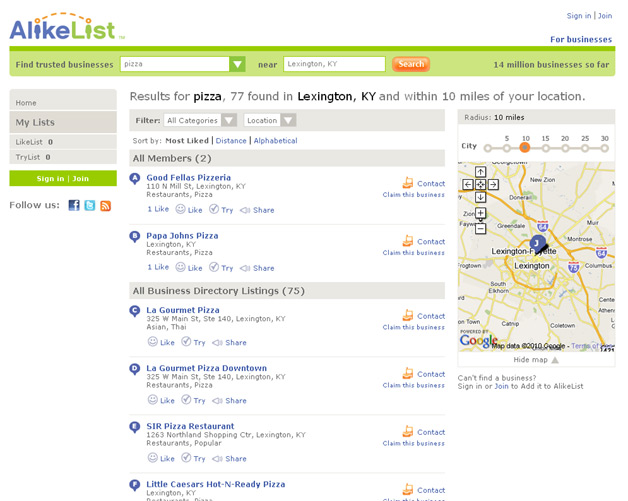 "Similarly, a referral from a friend-of-a-friend is stronger than a referral from a stranger because you have a general understanding of their background and preferences," he adds. "This is faster than traditional services because you don't have the 'review the reviewer' to try to learn if your preferences match, and you don't have to worry if negative reviews are coming from a business' competitor or someone with an axe to grind. In addition, when you need an important local business fast, a dentist or plumber for example, it is much faster and easier to find the ones your friends like and use, instead of reading reviews about dentists and plumbers from strangers or ones people don't recommend in a negative review."
There's no question that time is increasingly becoming harder to come by and more valuable a resource in the age of information overload. What incentive would customers have to take the time to "like" businesses on AlikeList?
Jim says, "AlikeList saves people time by offering an easy way for them to share and discover their most trusted local businesses with their friends. 'LikeLists' are available 24×7, and let people quickly find a trusted business and move on about their day. This is helpful for low-value decisions like 'which pizza restaurant to choose,' but this is vital for making high-value decisions like a doctor, lawyer or auto mechanic."
"People can spend lots of time researching which of these high-value service providers to use, or they can quickly check the 'LikeList' of a trusted friend," he adds. "In addition, your LikeList and TryLists serve as personal yellow pages, easy to reference quickly when you need them, or easy to refer to them when friends ask for recommendations. In addition, your LikeList will contain deals and messages from the businesses you like, so you can receive offers directly, without sifting through offers from businesses you don't want or need."
The company stresses that AlikeList was not built to be "another local reviews competitor", or a media company, but that it was created to be "an online local marketplace on which businesses and consumers can interact and build relationships."
Businesses can create special offers and promotions, which are posted directly to their AlikeList page. Customers can receive discounts or other special offers, and businesses can get people to promote them on their "LikeLists."
AlikeList has mobile apps "in the pipeline," the details of which will be shared when they're ready. This could be a vital factor in the service's success.