Google took the wraps off its Nexus One phone today, and by all accounts, this device will help spread Android further and faster than ever. But new data from AdMob shows that the mobile operating system was already on quite a roll.
A post on the official AdMob blog began by stating that growth has been occurring at an impressive rate in recent months, noting, "Worldwide requests from Android devices increased 97% from October to December."
Moreover, Android's success during that period wasn't just due to one or two popular types of phones (meaning its good fortune shouldn't come to an end the moment any given model becomes outdated).
The report explained, "In December, 7 devices generated more than 3% of requests each: the Motorola Droid, HTC Dream, HTC Magic, HTC Hero, Motorola CLIQ, HTC Droid Eris, and the Samsung Moment. This is up from only 3 devices in October (HTC Dream, HTC Magic, and HTC Hero)."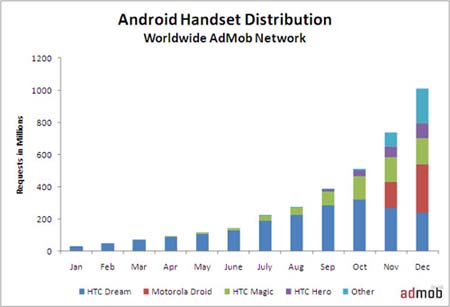 The above graph displays about the same information in what may be an easier-to-comprehend format. Just don't be surprised if a large new section appears for the Nexus One and the slope becomes even more vertical in the months ahead.
Related Articles:
> Google Unveils Nexus One "Super Phone"
> Apple Acquiring AdMob Competitor Quattro Wireless