A news program that debuted way back in September of 1968 is now taking steps to embrace a video-sharing site and the latest social media trends. 60 Minutes has launched a YouTube channel and asked viewers weigh in.
The channel-related development is straightforward (though important). Certain 60 Minutes segments will simply be uploaded to youtube.com/60minutes after they air so that people who miss the show on Sunday night can catch up later.
It's the request for feedback that's a little more interesting. A post on the YouTube Blog explained, "[W]e're partnering in a new program called, 'Ask 60 Minutes,' where you can engage directly with their correspondents. This week, we're featuring correspondent Lara Logan's story from the Afghanistan/Pakistan border, where she spent weeks with the 101st Airborne undergoing relentless attacks."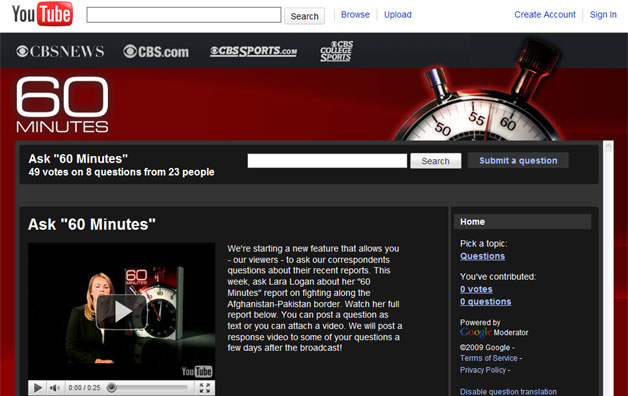 Later, the post continued, "Go to the 60 Minutes YouTube channel to upload a 60-second video with your thoughts, as well as vote on others responses. If you don't want to use video, you can submit your feedback in text. 60 Minutes producers may broadcast some of the top-voted responses on TV (that's a weekly audience of 13 million!) or respond to them directly on their website, 60minutes.com."
This seems likely to drum up interest in 60 Minutes, given that lots of people love to give their opinions on current events and many others are eager to get their face on TV.
The move also acts as a compliment to YouTube, since the show's ratings are quite good and it doesn't need to make a desperate grab for new viewers.