This could be the year of the display ad. That's not to say that display ads aren't prevalent every year, but Google has only been involved with that for a little while, and if analysts' projections are accurate, this will be the year that Google's display ad business tops $1 billion in sales.
Last summer, Google CEO Eric Schmidt suggested that display ads would be Google's next big billion-dollar business. According to BusinessWeek, a Barclays Capital analyst says display ads will account for about 4% of Google's total sales in 2010. This would be a 40% increase from their contribution in 2009. BW's Douglas MacMillan reports:
Sales of video and banner ads on YouTube, the world's most popular video site, are expected by analysts at Barclays to contribute the bulk of Google's display revenue this year, about $700 million. And with DoubleClick, Google acquired a technology that handles the placement of display ads on sites across the Web. "Display is now a key business for us," says Susan Wojcicki, Google's vice-president of product management and one of the company's earliest employees.
Neal Mohan, the executive in charge of Google's display business, says Google will draw on its strength in search-related advertising to expand in display. It became the leader in search by using algorithms to help it know which ads to place where. "Our goal is to bring the science of search to the art of display," Mohan says.
Advertisers will probably not be shy about getting on board with that. "Research has shown that exposure to both search and display ads from the same advertiser results in a 22 percent increase for conversion rates over search alone," Rich Kahn, CEO of display ad provider eZanga told WebProNews last year.
Back in November, Google announced its acquisition of Teracent, a provider of "intelligent dynamic display advertising". It provides machine-learning algorithms, which can create customized display ads based on thousands of different creative elements.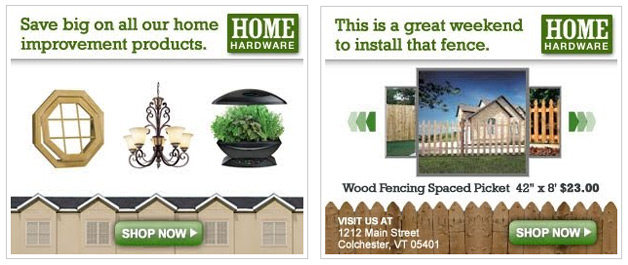 Google says the one on the right was created with Teracent's technology.
"Teracent's technology can pick and choose from literally thousands of creative elements of a display ad in real-time — tweaking images, products, messages or colors," Google said. "These elements can be optimized depending on factors like geographic location, language, the content of the website, the time of day or the past performance of different ads."
Before that announcement, Google launched a tool to measure the impact of display ad campaigns across the Google Content Network called Campaign Insights, which Google says can give reliable data about how a campaign has raised brand awareness or active user interest in a particular product or service. Google has also repeatedly added new templates for advertisers to use when constructing their creative.

Related Articles:
> Does Size Matter in Display Advertising?
> Google Launches New Display Ad Measurement Tool